Roome rates vary according how long you stay at Gästehof Fehrmann: 1 night, 2 – 4 nights, 5 nights and more.
room rates starting from October 1st 2022
| type of room | 1 night | 2 – 4 nights | 5 nights + |
| --- | --- | --- | --- |
| single room | 58,- € | 48,- € | 45,- € |
| twin or double room | 80,- € | 65,- € | 60,-€ |
| triple room | 100,- € | 85,- € | 80,- € |
– room rates 1st October 2022 –
Room rates are per night and per room in Euro including breakfast and VAT. Lodging Tax will be added. Below you find further information about the lodging tax.
Holiday flats are available from 3 nights and longer. The basic rate for holiday flats is € 65.00  per night for 2 persons including towels, linen and final cleaning.
We charge € 10.00 per night for each additional person staying in the holiday flat.
If you like to stay for shorter than 3 nights, please contact us by booking form or call us at 0049 351 4 11 66 08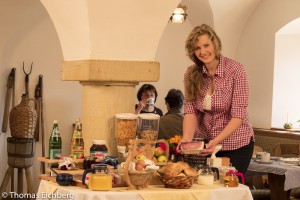 We like to welcom your guests from the holiday flats in our breakfast room for a rich breakfast at € 8.00 per day and person.
In the summer we serve breakfast outside too, including local products from our farm like fresh eggs or jam.
Lodging Tax
On 1 July 2015, an accommodation tax became effective in the Saxony capital of Dresden. Principally, all visitors to Dresden who spend the night in a hotel or similar accommodation are taxable. The amount of the accommodation tax will be calculated in graduated form. We hope for your understanding that Gästehof Fehrmann Dresden is obligated to charge the accommodation tax.
Exempted from tax are guests who visit Dresden for professional reasons. For an exemption, guests have to submit the relevant, filled and signed 'employer information' form upon arrival at Gästehof Fehrmann.
How much is the lodging tax?
"The lodging tax depends on the amount spent on the individual overnight stay in the accommodation (including VAT). If several people pay a single (joint) room price, each
guest shall be allotted an amount that corresponds to the division of this price by the number of guests accommodated.
The lodging tax is 6 % of the room-price, rounded to full euro cents."
Please do not hesitate to contact Dresden's tax and city treasury office to get more information or have a look at the PDF file: amendment to the Ordinance with effect from 1st January 2019. Dresden's tax and city treasury office: phone 0049 351 4 88 24 96
If you have any questions, please do not hesitate to contact us at phone 0049 351 4 11 66 08 or via email to kontakt@gaestehof-fehrmann.de.